You know you will be considered an outcast if you are not aware of what in the world is Game of Thrones. Well, this American fantasy drama television series grabbed popularity in no time around the globe; American or French, everyone fell in love with it alike. Pakistan is no behind, yet a huge population here still not part of the pack.
So, here we have an entire list of things that happen to you while watching Game of Thrones in Pakistan:
Waiting until the morning for the new episode
 Due to the difference in time zones, you are that GoT fanatic who doesn't sleep the whole night out of excitement and wait till morning to download the episode as soon as possible. You know you will halal your neend only after watching the new episode, or else you will consider yourself a loser because it's really a Game of Thrones where you just can't stay behind.
Staying safe from the spoilers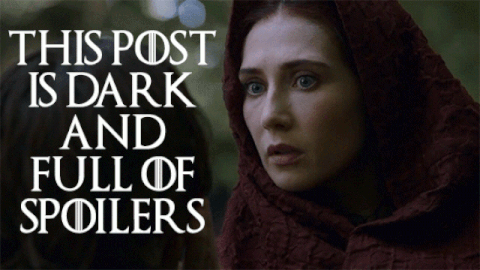 You know you can survive only when you protect yourself from the latest episode's spoilers on social media. Hence you use it only after watching the latest episode. That's One. Safe. Play.
Pro Tip: Do not use social media as soon as the episode airs
Here comes a scene from Brothel, there comes Ammi
The worst scenario when an obscene scene is on your laptop and ammi comes into the room. Either it's your luck to that she didn't watch it or it's an end to your life because itna paal pos kar ye din dekhne kay liye bara kia tha tumhe? Consider your internet, playing, phone and breathing all done and dusted for the rest of your life.
Pro Tip: Watch it alone 😉
Friends can't get your jokes
You: WINTER IS COMING!
Friends: Abhi to 'July' ka mahina hai, abhi toh winter gaya hai. Summer hai abhi, jaahil!
You: *sigh* nvm.
It is so hard to crack a game of thrones joke in front of your friends who haven't seen it yet. You feel devastated because they cannot get your classic joke.
You: Valar Morghulis
Friend: Hain? Dusri zabaan mein gaaliyan de rahay ho? Besharam!
You: *sigh* nvm.
Surviving between the anti-Got
We all know that person around us who hates Game of Thrones because of its obscenity and violence. But you have to counter them by telling them some real good stuff from the series to win the argument.
Pro Tip: Do not over think about what people think, order some pizza at up to a 50% Flat Discount and enjoy your latest episode or the GoT marathon with good food and lots of deaths! 😉
Mahrukh Talat |
Guest Contributor
Surviving to eat, Writing to express, Tweeting to rant and Playing with my cat to keep myself happy. Media Student at NUST.